Explore the Dream. Discover
India
We are Travelling...
To travel is to live.
Italy
We are Travelling...
Take only memories
Canada
We are Travelling...
We travel to lose ourselves; and we travel to find ourselves.
We travel to open our hearts and eyes and learn more about the world than our newspapers and televisions can provide.
We travel to bring what little we can, in our ignorance and knowledge, to those parts of the globe which are differently dispersed.
And we travel, to become young fools again — to slow time down and get taken in, and fall in love once more.
We travel differently. We at VR REISENcreate one-of-a-kind travel experiences. The world is endlessly beautiful, and seeing it is one of life's greatest privileges and pleasures.
Tell us about the trip you're dreaming of taking - we'll make it a reality.
Leave that to us. VR REISEN, "We are Travelling", your ultimate travel partnerto go around the globe. We are dedicated to ensure that your trip remains memorable. Every place on earth accessible, time is the only constraint!
Our tours are specifically designed and scheduled around your interests and needs. We want to give you the most memorable and rewarding vacation possible, and we'll work closely with you to create an itinerary that exceeds your hopes and expectations.

What we do:
We at VR REISEN have been in the travel and tour business with a thorough understanding and commitment to provide luxury and comfort travel.

Our dedicated services:

Know your "Travel Quotient"

You and your Interests
Period of Travel
Your budget

Plan your travel

Flight Bookings
Cruise Bookings
Visa Assistance
Hotel Booking
Land Packages
Land Packages

Personalised Services throughout the tour
MICE(Meetings - Incentives – Conferences - Exhibitions) services to cater all corporate and individuals with someexquisite.
OUR TEAM
RENJITH

VIJO

RIJIN

MANJITH

SHEEBA

SUMI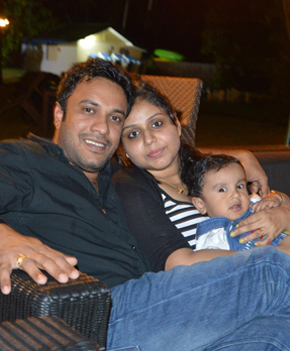 ALFRED
First of all, let me say a big thanks to you for the excellent service and warm reception we got from all places we travelled.
All agents at all destinations were punctual and the private coaches arranged for us were very good. Our holiday with 1 year old kid was really hassle free only because of your great service.In short my experiences with VR REISEN was really impressive and I really appreciate your effort!
I am very certain that if there is any other opportunity for me for any holidays - without looking back I will travel with VR REISEN, also I would try to promote this travels as much as I can!!!
VR REISEN - " SIMPLY THE BEST TRAVELS"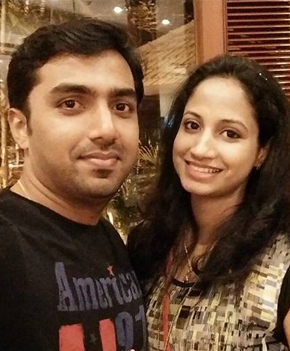 Neethu Royce
It was amazing experience we had throughout our Honey moon trip to Singapore , everything from the planning of itinerary and delivering over and above. All thanks to VR REISEN for making our journey a seamless one. Cudos to the whole team. Looking forward to be part of this amazing experience again in future.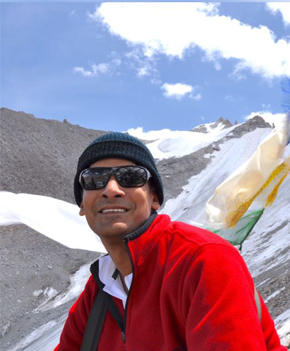 SHREEKANTH PATTAR
Generally the my Turkey tour was as per the expectations. Turkey trip involves lots of walking and is of historical significance only. The touring was relatively hectic but for us it was ok..But the locations/views were superb - especially at Kusadasi, Cannakale and Gerome.
Pick-up and drop and was on-time at all places.
The coach/bus was very good and driving was excellent.
Overall I found Turkey, with 95% Moslems, a very very liberal society, very neat and clean and nightlife which ends at 5am in the morning with live bands and roof top bars.
I feel you have to promote Turkey selectively to Indians.
Thanks for your support in making this tour happen.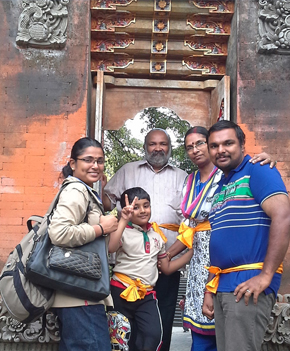 Dr. S SANKAR AND FAMILY
Everything was top with VR REISEN. We have traveled several times through them with family both abroad and in India.We will not hesitate to recommend them to any one anywhere.Flawless and very professional service from start to end. A touch of intimacy stands out, Weare travelling certainly with VR REISEN..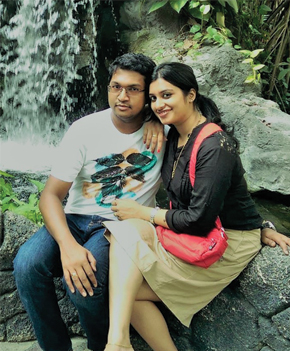 JENSON THOMAS, PRITHI MARIYAM KURIAN Software Engineer- Tools, California
We contacted VR REISEN to help us organize the travel for our honeymoon. They were very fast to help us receive the VISA and also to help us choose the best package for 3 days. It helped us to explore a new place together for the first time, and made us both realize that we love traveling and exploring new places together. The honeymoon was also special because Prithi's birthday happened to fall on one of the days. It was one of those romantic moments where we celebrated her birthday during our honeymoon. Sincere thanks to VR REISEN team for helping us enjoy our first alone time together, away from family after marriage 🙂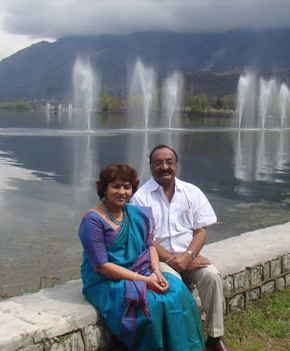 Mr. Sudhakara Menon and Mrs. Mridula Menon
Thank you for the tour arrangements you have planned and organized for us.In fact everything went on well.Some places you arranged , We didn't make it,only because of our own reasons.But overall,it was a nice trip.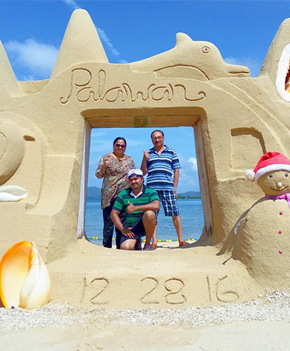 Mr. Anand Ravi and family
I'm Anand Ravi, currently serving in the rank of Chief Officer in Merchant Navy. I live in Kochi with my parents.. For the benefit of other travel enthusiasts like me, I would like to share my experience with V R Reisen. Though i have traveled extensively all throughout the world as part of my career, whenever I think of a vacation with my family, i always like to have the trip well planned so as to avoid any unpleasant surprises. We have been enjoying the services of V R Reisen since 2013. They have planned our vacations to Thailand (2013), Singapore (2014), Dubai / Bahrain (2015) and Philippines (2016). Mr.Renjith has been very kind to personally organize and monitor each of these tours to enhance our experience.
The feature that I like most about VR Reisen is the personal attention and care that you receive from them. He is your one point contact for all your travel needs ranging from fight tickets, visa, travel insurance, currency exchange etc., unlike other major tour operators wherein you have to speak to an IVR customer care number all the time. They do not run on advertisement or marketing, but solely on reference from travelers like you and me. Whenever I faced any kind of difficulty during my travel, Mr.Renjith has been spontaneous in providing all necessary assistance. Even during our recent visit to Philippines in Dec'16, we faced typhoon Nina and there were flight delays. We just contacted Mr.Renjith and he was prompt in rendering necessary information after checking with his sources. Another good thing is that you can have the entire planning done over mail and phone wherever you are, without having to visit the travel office. I would whole heartedly recommend that you make VR Reisen part of your travel plans. Just tell them what you want and they will have it customized and delivered for you. I hope my recommendation has been helpful to you in some way or the other. So stay safe and Bon Voyage
Contacts
+91 9446 504 505
+91 9446 527 505
contact@vrreisen.com
#5 - 3rd Floor, Gladson Center,
By Pass Jn, Edappally,
COCHIN - 682 024
INDIA
UK - Mr. Manjith Abraham
Contact No : +44 7810 621571
#21, St Clements Rd
Greenhithe
Kent DA9 9FG
UK
USA - Mr. Joseph Easaw Mullasseril
Contact No : +1 281 7737988
Huston, Texas, USA

Malaysia - Mr. Aman Shah
Contact No : +60 19 226 6655
Kuala Lumpur, Malaysia

UAE - Mr. Viju Alex
Contact No : +971 55 477 5040
Dubai, UAE

Australia - Mr. Priju Jacob
Contact No : +61 423 576 382
Sydney , Australia

Canada - Mr. Saiju John
Contact No : +1 250 301 9353
Prince George, BC , Canada

OUR SERVICES
* VISA ASSISTANCE
* FLIGHT BOOKINGS
* CRUISE BOOKINGS
* GLOBAL AIRPORT TRANSFERS
* LAND ARRANGEMENTS
* GLOBAL HOTEL BOOKINGS
* TOURS
* TOUR PACKAGES
* TRAVEL INSURANCE
* INTERNATIONAL SIM CARDS